For Applicants on an Executive Training programme, here is the link – https://portal.cim.ac.cy/training-consulting

There are 3 steps on the application; separated by the categories below:
Step 1: Basic and Contact information and Equal Opportunities
Step 2: Programme information and Personal Statement
Step 3: GDPR and Declaration
There is a red warning banner which you need to read before you start the application.
In Step 1 of the eForm, there is a check box for the applicant to confirm that the soft copies of requested documents are ready for upload.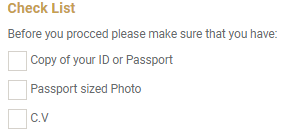 Please fill out your name and last name as it appears on your identification documents.
We require your company email address and your Company information to cross check your information with your manager. This email will be used in all future communication.
The Equal Opportunities section is important to provide support services during your studies.
In Step 2, select the Academic Year you wish to start on.
Depending on this, the relevant courses will appear in the drop-down option for courses.
The Personal Statement is just a brief summary of yourself and how you feel this programme will help you in your future endeavours.
Step 3 is the GDPR section which needs to be completed for the application to be submitted.
Once the eForm is complete,  the following pop-up will appear on the screen –

At the same time, an email will be sent to the address you have provided. Please check your Junk/Spam mailbox in case it is not delivered to your Inbox.