Business School's Advisory Board
The Business School's Advisory Board has a pivotal role to play when it comes to the Strategy and Development of the operations and it ensures that the highest academic standards are maintained.
The Advisory Board membership for 2022-23 is as follows:
1. PRESIDENT, MARIOS KAPIRIS, DIRECTOR, KYNDRYL CYPRUS
2. VICE-PRESIDENT, NATASA PILIDES, FORMER MINISTER OF ENERGY, COMMERCE AND INDUSTRY
3. GLAFKOS MAVROS, FORMER GENERAL DIRECTOR, HELLENIC BANK
4. ANNA P. ANTONIOU, CHIEF MARKETING OFFICER, SPP MEDIA
5. GEORGE GEORGIOU, CEO, GREEN ENERGY GROUP
6. NICHOLAS DEFTERAS, CEO, FXTM 
7. ANTONIS PAPAS, MARKETING & COMMUNICATIONS MANAGER, NP LANITIS
8. YANGOS HADJIYANNIS, CEO, CIM-CYPRUS BUSINESS SCHOOL
9. THEO HADJIYANNIS, FOUNDER, CIM-CYPRUS BUSINESS SCHOOL
10. GARO DZAGHIGIAN, SALES MANAGER, TOYOTA
11. DR CHRISTOS HADJIYANNIS, DEAN, CIM-CYPRUS BUSINESS SCHOOL
12. PAOLA IOANNOU, CHIEF FINANCIAL OFFICER, NATIONAL BANK OF GREECE (CYPRUS)
13. SOTEROULA SOTERIOU, MARKETING & CORPORATE IMAGE MANAGER, CHARALAMBIDES CHRISTIS
14. GEORGIA CHRYSANTHOU, DIRECTOR, HOUSE OF BRANDS
15. DAPHNE PRODROMOU, FORMER COMMUNICATIONS & STRATEGY MANAGER, BANK OF CYPRUS
16. GEORGE CHRYSOCHOS, MANAGING DIRECTOR, CYFIELD GROUP
17. ANTONIS KARPASITIS, FORMER GENERAL MANAGER, METLIFE CYPRUS
18. DR NICOLAS MASTROYIANNOPOULOS, DIRECTOR W11 VENTURES
19. SPYROS VASSILIOU, DIRECTOR, SPYROS VASSILIOU & ASSOCIATES LLC
20. DR MYRIA KKALI, ACADEMIC DIRECTOR, NICOSIA, CIM-CYPRUS BUSINESS SCHOOL
21. DR KATERINA PAVLOU, ACADEMIC DIRECTOR, LIMASSOL, CIM-CYPRUS BUSINESS SCHOOL
The President of the Business School's Advisory Board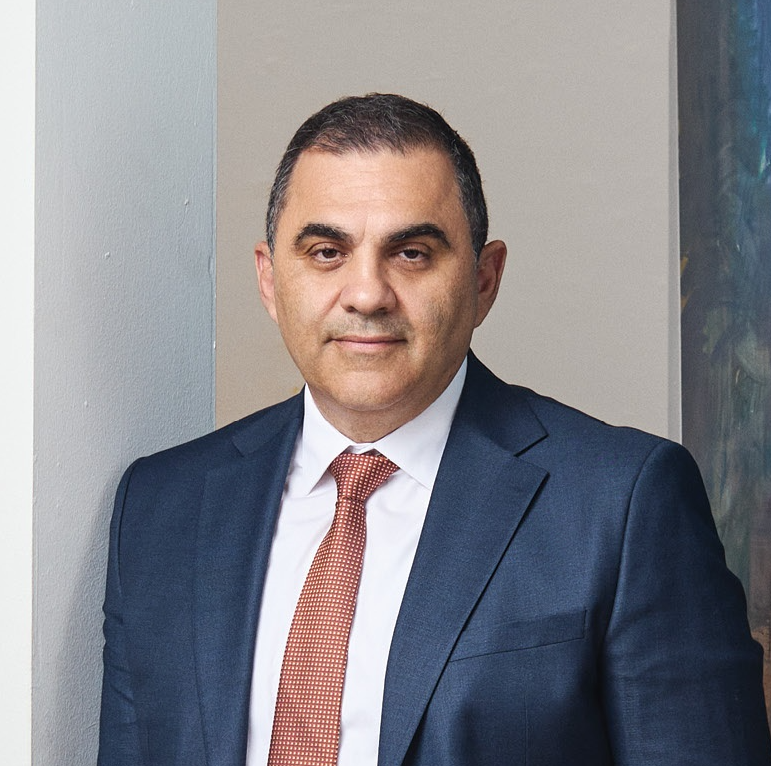 Marios Kapiris is currently the Director of Kyndryl Cyprus and also the Alliances & Ecosystems Leader for Kyndryl Greece and Cyprus. His job responsibilities include the general management of Kyndryl's 's business operations in Cyprus, including sales, business development, project delivery and technical support. In addition, Marios is responsible to build and maintain Kyndryl's partner ecosystem and global alliances for both Greece and Cyprus. Marios previous role was the Country Manager for IBM in Cyprus. He has begun his career in IBM in Cyprus back in 2001, holding various management positions since then, including countries Greece, Australia, and New Zealand. He represents Kyndryl Cyprus at the Cyprus Employers and Industrialists Federation (OEB), President of the Digital Transformation Committee of the American Chamber of Commerce in Cyprus (AmCham), a Board Member of the Cyprus Tech Association (Invest Cyprus) and a Board and Founding Member of the Cyprus – Australian Business Association. He holds a degree (BSc Hons) in Computer Science & Marketing from the University of Keele (UK) and a Master's degree (MSc) from the University of Leeds Business School (UK) in International Management. He is also a qualified ACIM from Chartered Institute of Marketing (UK).
Marios Kapiris excels in his field and has been awarded as Manager of the Year at the IN-Business Awards 2022.
Foreword by the President
More than 44 successful years have passed since 1978 when CIM, the first Business School in Cyprus was set up to promote and service the science of marketing globally. Through the rigorous and challenging programmes developed over the years CIM has focused on creating value in education, and has been recognised as the major educational centre for the development and promotion of marketing in the most practical and efficient way.
More recently the Institute has expanded its educational horizon through wider multifaceted programmes providing Diplomas, Bachelor degrees and Masters Programmes of its own as well as academic programmes in collaboration with carefully selected prestigious European Institutes and universities.
Under the present unprecedented economic constraints that most of the world is faced with, and the ever increasingly competitive job environment, education and knowledge are the only secure shields to job continuity and the most valuable safeguard for a successful future career.
CIM, with its four decades  of successful operation, provides students with valuable educational choices and opportunities. Ever since our establishment the Institute has been teaching in-career adults and attracts all those who have the determination and will to enhance their knowledge and personal fulfilment further. 
Based on our successful history of combining theory and practice and building on our experience we envisage becoming the leading business school in Cyprus through a programme of refining and updating our graduate and undergraduate programmes to reflect the current economic and business environment, and at the same time taking advantage of the knowledge and experience of our professional ties with leading European educational institutes.  
At CIM we are characterised by our high ambitions and unique goals in the years to come; we want to be distinguished and recognised as the continent-wide business school with international recognition for its creative programmes and the proven success of its academic achievements. Join us and become part of our success.